Rhinostat is a dosage titration system for decongestant nasal sprays, designed to maintain comfortable airflow as the sprays are withdrawn.
Using the patented Rhinostat apparatus and diluent solution, the dosage strength is reduced by approximately 15% per day.  Patients can administer the decongestants as needed to maintain comfortable airflow.  The reduced strength solution provokes a diminished rebound reaction.  After 2-4 weeks, the patients are weaned from the decongestants.
Rhinostat can be used in conjunction with topical or system steroids.  It can also be used as a standalone therapy when steroids may be contraindicated.  Comfortable airflow during the withdraw process translates to higher success rates with rhinitis medicamentosa patients.  Each kit is individually formulated, depending upon the type of spray the patient is currently using.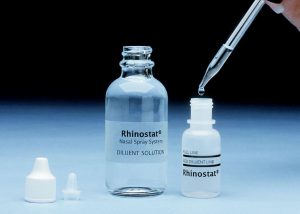 How To Integrate Rhinostat Into The Treatment Plan
Physicians simply refer the patient directly to Rhinostat.  We will take all of their information, formulate the kit and ship it directly to them.  If the patients have any questions about the use of their kits, they can contact Rhinostat directly.  Since 1999, this method has proven to be so effective that Rhinostat actually offers a money back guarantee directly to the patient.
Rhinostat Kits cost $39.00 each.  A single person needs only one kit.
Patients may order directly from Rhinostat by visiting www.nasalspray.com or by calling us at (877) RHINOSTAT (877)744-6678.